Live Webinar: Solar Thermal - A key for decarbonization
Save the date. In Absolicon Live Webinar Series, we will host key-players from all over the world to discuss about Solar thermal for industries.
On February 25th at 2:00 PM for our first episode we will have the pleasure to have as a guest:
Hammam Soliman Senior Sales manager, Aalborg CSP
Raul Villalba Van Dijk Director of International Development, Solatom
Puneet Saini Business development Engineer, Absolicon

We will be discussing Solar Thermal Technologies and Opportunities for industrial scale applications.
Hosted By: Carlo Semeraro Chief Sales Officer, Absolicon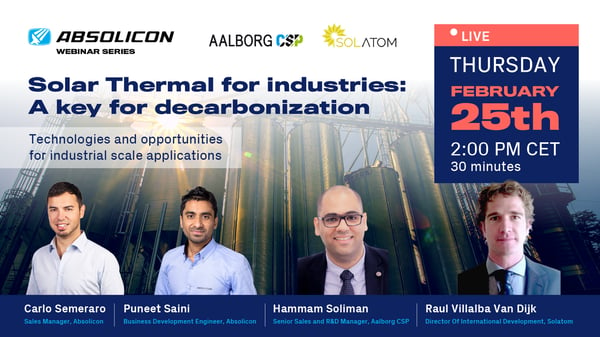 Register Now